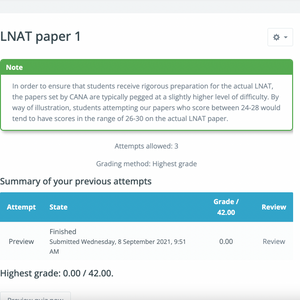 LNAT MCQ Trainer
Students applying to read law in the UK are required to take an admission test in the form of the National Assessment Test for Law (LNAT).
There are two segments to the LNAT: the MCQ as well as the essay segment. 
CANA's LNAT MCQ Trainer is specifically designed to challenge students and prepare them for the 95 minutes MCQ segment. 
Educators often recommend students to try the various LNAT MCQ assessment books on the market to prepare for these examinations. However, based on years of feedback on the inconsistent quality of the questions in this text, either being far too simplistic or overly difficult, Canalopy's team of experienced teachers decided to create their own.
Canalopy's MCQ papers are designed with the goal of simulating the LNAT exam, including the types of articles used and the types of questions explored.
Stronger students who have already attempted the official
LNAT
sample papers can utilise the papers available on Canalopy for further study. Less experienced students may also benefit from the many logical reasoning tests available on the platform.
The LNAT MCQ Trainer includes:
10 proprietary LNAT MCQ papers crafted by experienced Oxford graduates.

Over 400+ questions providing students the rigorous practice they require.

Guided explanations for each paper, providing students with detailed explanations to aid them understand why a particular answer might be incorrect in order to avoid similar future errors.

Exam analytics capturing real-time data as each paper is attempted. Proprietary software reveals areas students excel in and others they need to improve.

Further aid in the form of one to one guidance from one of Canalopy's team can also be arranged.
The LNAT MCQ Trainer complements the LNAT preparation course available at Canalopy's sister site (canaelite.com). Cana Elite's course focuses on important techniques and content for the essay segment of the LNAT. Together, students will be well prepared to tackle the LNAT.